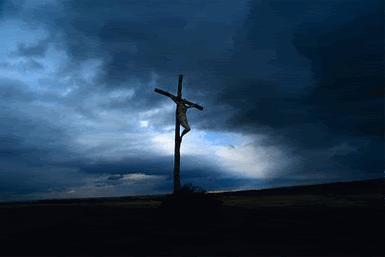 THE TRUE MEANING OF EASTER
This can be summed up in the words of the 'Gospel ('good news') writers when they were inspired by God to write his Gospels. I have taken various extracts to illustrate the true meaning of Easter: that God (Jesus, the Son) was judged and died in our place for our rebellion against God. He was raised to life again and to heaven to take His place to rule creation at the side of the Father.
As we believe in His incredibly costly sacrifice for us, and invite Him to rule in our lives, and to fiorgive us, then He comes to reside in us, to fellowship with us and to lead us through life and beyond into heaven. This is the message of Easter, that we can have 'eternal life'...which means, knowing God, both in this life, and in the fullness of life to come beyond death.
The video below describes just who this 'Jesus' really is!
Let the extracts below speak to your spirit:
The Gospel of John Chapter 3 verses 1-21 (includes verse 16, the most famous verse in the Bible)1 Now there was a man of the Pharisees named Nicodemus, a member of the Jewish ruling council. 2 He came to Jesus at night and said, "Rabbi, we know you are a teacher who has come from God. For no-one could perform the miraculous signs you are doing if God were not with him." 3 In reply Jesus declared, "I tell you the truth, no-one can see the kingdom of God unless he is born again." 4 "How can a man be born when he is old?" Nicodemus asked. "Surely he cannot enter a second time into his mother's womb to be born!" 
5 Jesus answered, "I tell you the truth, no-one can enter the kingdom of God unless he is born of water and the Spirit. 6 Flesh gives birth to flesh, but the Spirit gives birth to spirit. 7 You should not be surprised at my saying, 'You must be born again.' 8 The wind blows wherever it pleases. You hear its sound, but you cannot tell where it comes from or where it is going. So it is with everyone born of the Spirit." 9 "How can this be?" Nicodemus asked. 10 "You are Israel's teacher," said Jesus, "and do you not understand these things? 11 I tell you the truth, we speak of what we know, and we testify to what we have seen, but still you people do not accept our testimony. 12 I have spoken to you of earthly things and you do not believe; how then will you believe if I speak of heavenly things? 13 No-one has ever gone into heaven except the one who came from heaven—the Son of Man. 14 Just as Moses lifted up the snake in the desert, so the Son of Man must be lifted up, 15 that everyone who believes in him may have eternal life.
6 "For God so loved the world that he gave his one and only Son, that whoever believes in him shall not perish but have eternal life.
17 For God did not send his Son into the world to condemn the world, but to save the world through him. 18 Whoever believes in him is not condemned, but whoever does not believe stands condemned already because he has not believed in the name of God's one and only Son. 19 This is the verdict: Light has come into the world, but men loved darkness instead of light because their deeds were evil. 20 Everyone who does evil hates the light, and will not come into the light for fear that his deeds will be exposed. 21 But whoever lives by the truth comes into the light, so that it may be seen plainly that what he has done has been done through God."
John 14:5-6   (Jesus the Way to the Father)
5

 Thomas said to him, "Lord, we don't know where you are going, so how can we know the way?"
6

 Jesus answered, "I am the way and the truth and the life. No-one comes to the Father except through me.
 Mark 14:61-62 (Jesus declares who He is)
The high priest asked him, "Are you the Christ, the Son of the Blessed One?" 62 "I am," said Jesus. "And you will see the Son of Man sitting at the right hand of the Mighty One and coming on the clouds of heaven."
Mark 15:25-39 (The crucifixion of Jesus)
25 It was the third hour when they crucified him. 26 The written notice of the charge against him read: the king of the jews. 27 They crucified two robbers with him, one on his right and one on his left. 28  29 Those who passed by hurled insults at him, shaking their heads and saying, "So! You who are going to destroy the temple and build it in three days, 30 come down from the cross and save yourself!"  31 In the same way the chief priests and the teachers of the law mocked him among themselves. "He saved others," they said, "but he can't save himself! 32 Let this Christ, this King of Israel, come down now from the cross, that we may see and believe." Those crucified with him also heaped insults on him.
The Death of Jesus
33 At the sixth hour darkness came over the whole land until the ninth hour. 34 And at the ninth hour
Jesus cried out in a loud voice, "Eloi, Eloi, lama sabachthani?"—which means, "My God, my God, why have you forsaken me?" 35 When some of those standing near heard this, they said, "Listen, he's calling Elijah." 36 
One man ran, filled a sponge with wine vinegar, put it on a stick, and offered it to Jesus to drink. "Now leave him alone. Let's see if Elijah comes to take him down," he said. 37 With a loud cry, Jesus breathed his last. 38 The curtain of the temple was torn in two from top to bottom.
39 And when the centurion, who stood there in front of Jesus, heard his cry and saw how he died,
he said, "Surely this man was the Son of God!"
 Matthew 28:1-10  (The Resurrection of Jesus)
1 After the Sabbath, at dawn on the first day of the week, Mary Magdalene and the other Mary went to look at the tomb. 2 There was a violent earthquake, for an angel of the Lord came down from heaven and, going to the tomb, rolled back the stone and sat on it. 3 His appearance was like lightning, and his clothes were white as snow. 4 The guards were so afraid of him that they shook and became like dead men. 5 The angel said to the women, "Do not be afraid, for I know that you are looking for Jesus, who was crucified. 6 He is not here; he has risen, just as he said. Come and see the place where he lay. 7 Then go quickly and tell his disciples: 'He has risen from the dead
and is going ahead of you into Galilee. There you will see him.' Now I have told you."
8 So the women hurried away from the tomb, afraid yet filled with joy, and ran to tell his disciples. 9 Suddenly Jesus met them. "Greetings," he said. They came to him, clasped his feet and worshipped him. 10 Then Jesus said to them, "Do not be afraid. Go and tell my brothers to go to
Galilee; there they will see me."
RESURRECTION SUNDAY...DANCE  (FROM HUNGARY)
 Acts 1 verses 1-11  (Jesus Taken Up Into Heaven)
1 In my former book, Theophilus, I wrote about all that Jesus began to do and to teach 2 until the day he was taken up to heaven, after giving instructions through the Holy Spirit to the apostles he had chosen. 3 After his suffering, he showed himself to these men and gave many convincing proofs that he was alive. He appeared to them over a period of forty days and spoke about the kingdom of God. 4 On one occasion, while he was eating with them, he gave them this command: "Do not leave Jerusalem, but wait for the gift my Father promised, which you have heard me speak about. 5 For John baptised with water, but in a few days you will be baptised with the Holy Spirit." 6 So when they met together, they asked him, "Lord, are you at this time going to restore the kingdom to Israel?" 7 He said to them: "It is not for you to know the times or dates the Father has set by his own authority. 8 But you will receive power when the Holy Spirit comes on you; and you will be my witnesses in Jerusalem, and in all Judea and Samaria, and to the ends of the earth." 9 After he said this, he was taken up before their very eyes, and a cloud hid him from their sight. 10 They were looking intently up into the sky as he was going, when suddenly two men dressed in white stood beside them. 11 "Men of Galilee," they said, "why do you stand here looking into the sky? This same Jesus, who has been taken from you into heaven, will come back in the same way you have seen him go into heaven."
Romans 6 verses 4-11 ( The Apostle Paul sums it up)
Just as Christ was raised from the dead through the glory of the Father, we too may live a new life. 5 If we have been united with him like this in his death, we will certainly also be united with him in his resurrection. 6 For we know that our old self was crucified with him so that the body of sin might be done away with, that we should no longer be slaves to sin— 7 because anyone who has died has been freed from sin. 8 Now if we died with Christ, we believe that we will also live with him. 9 For we know that since Christ was raised from the dead, he cannot die again; death no longer has mastery over him. 10 The death he died, he died to sin once for all; but the life he lives, he lives to God. 11 In the same way, count yourselves dead to sin but alive to God in Christ Jesus.